Texto: Guilherme Ritsu | Fotos: Lolita 23q
A Lolita 23q é definitivamente uma banda com muita história para contar. Formada em 2004, o vocalista Sou saiu em 2009 fazendo com que os membros remanescentes continuassem com um novo vocalista. Em 2012 a banda encerrou suas atividades completamente. No entanto, em 2016 eles anunciou seu retorno para a surpresa dos fãs, com Sou tomando a posição de vocalista novamente.
No dia 7 de abril, Lolita 23q visitou Nagoya pela primeira vez desde seu retorno. O show que fez parte da turnê "JOKER GAME ~BET YOUR 11 CARDS~" reuniu fãs do país inteiro no Nagoya ell para uma noite nostálgica e inesquecível.
Ao som de uma música que soava como música ambiente de um cassino, um a um os membros entraram no palco. Ban com seu visual exótico e divertido saltitou em direção ao seu set de bateria, Ryosuke com movimentos dramáticos foi de encontro a seu baixo, enquanto os guitarristas yu≠ki e Ryuto com extrema elegância ocuparam suas posições nos cantos esquerdo e direito do palco. Por fim, o vocalista Sou adentrou o palco arrancando gritos da platéia e dando início ao concerto.
O som de introdução casava perfeitamente com a primeira música da noite: ジョーカーゲーム (JOKER GAME), primeiro single lançado pela banda após seu retorno, uma canção que possui fortes elementos de jazz e remete aos cassinos e jogos de cartas. Os fãs pulavam com as mãos para o alto e cantavam em coro com o vocalista. Em seguida, Supernova e Red Room agitaram o público enlouquecido. Os membros se movimentavam para frente do palco para atiçá-los ainda mais. Ryosuke que não parava de se mexer um minuto sequer, mostrou toda sua destreza cantando, gritando e fazendo raps junto ao microfone enquanto tocava o baixo.
"Nagoya, eu queria ver vocês!!" gritou Sou. As luzes da casa se apagaram e os fãs começaram a gritar pelo nome de seus membros favoritos. O vocalista então voltou a falar: "Finalmente viemos para Nagoya de novo. Faz um longo tempo não é? Vocês estavam ansiosos?" feliz com a reação do público continuou "Vamos lembrar vocês de como é o show do Lolita 23q! Vamos nos divertir com tudo!".  Levando a sério as palavras de Sou, os fãs fizeram com que o ambiente ficasse selvagem logo nas primeiros riffs de 睡蓮の部屋(Suiren no heya). Aos gritos eles pulavam e dançavam perfeitamente a coreografia da música, mostrando que mesmo após tanto tempo não a tinham esquecido. Em certo momento, os fãs começaram a fazer uma espécie de mosh para frente, não deixando barato para qualquer show de heavy metal.
Ryuto e yu≠ki trocaram suas posições, e durante o solo de guitarra todos os membros apontaram para yu≠ki que apesar da pressão o executou com maestria. Sou perguntou "Vocês se lembram dessa?" pouco antes dos primeiros acordes da introdução de セヰレンブルウ (Seilen Blue), música que estava sendo tocada pela primeira vez desde o retorno da banda. Em um clima de emoção e nostalgia, os fãs assistiram a performance da banda em silêncio, porém voltaram a mostrar toda sua força em 極彩色キャッスル (Gokusaishiki Castle), quando ao ritmo da música pulavam de um lado para o outro junto com a banda. Nem mesmo yu≠ki que estava tocando parado em seu canto pode ficar de fora, uma vez que Ryosuke o cutucou lhe dizendo para se juntar à festa. Um tanto contrariado, yu≠ki passou a pular com a banda e com os fãs.
Após tanta agitação, a platéia teve algum tempo para descansar enquanto escutava as belas baladas カラフル夜空 (Colorful Yozora) e 流星とメトロポリス (Ryuusei to Metropolis) onde Ban mostrou toda sua energia e ritmo, Ryuto encantou os fãs fazendo sua guitarra chorar com ritmos melódicos. Próximo ao fim da canção, Sou deixou os fãs cantarem a parte da letra que fala "Deus, você consegue ouvir o meu pedido? Ele chega até você?", e de fato o pedido deles parecia ter se realizado. A banda que há tanto tempo havia deixado de existir lá estava tocando em frente aos seus olhos.
Após o fim das baladas, os integrantes da banda saíram do palco deixando Ban sozinho. Esse era o início do BANTIME em que ele interagia com os fãs de forma divertida.
"Pessoal de Nagoya!! Boa tarde!! Palmas! Palmas! Yo!!! Eu sou o Ban!!" dizia fazendo a platéia gargalhar. Ele então resolveu presentear os fãs de Nagoya com uma apresentação especial, fazendo beatbox enquanto mencionava as comidas típicas de Nagoya.
"Vamos continuar nos divertindo! Peguem suas toalhas! Se vocês não tiverem toalhas peguem os papéis de assoar o nariz que vocês ganharam na rua! Se vocês não tiverem papéis de assoar o nariz, usem os seus braços!" ordenou fazendo com que os fãs preparassem suas toalhas, parte da mercadoria da banda. "Agitem como se isso fosse a gravação de um DVD, ok? Vocês amam o Ban? Minha bateria é bonita?" perguntou ele e se divertiu com as reações.
Os membros retornaram juntos ao palco enquanto a casa foi tomada por uma batida eletrônica que mais uma vez se conectou com as próximas músicas, プラリウム (Plurium) e Pheromone Cherry que transformaram o Nagoya ell numa rave. Enlouquecido, Ryosuke batia cabeça e girava pelo palco enquanto tocava. Sou anunciou a próxima música, 未完成サファイア (Mikansei Saphire), uma das favoritas dos fãs que não deixaram por menos e pularam o mais alto que podiam e cantaram com toda sua força, fazendo com que não somente o vocalista, mas todos os membros sorrirem contentes. Mas Sou ainda não estava completamente satisfeito.  "Dêem tudo de si nessa próxima música!" gritou antes de 二次元ノ宙 (Nijigen no Chuu), e eles prontamente atenderam ao pedido, erguendo seus punhos ao ar. Ryuto e Ryosuke tocaram um de costas para o outro e com gestos pediram que os fãs gritassem mais e mais. Tanto a banda quanto a platéia pareciam se tornar um só.
"Me imitem!" disse Sou no início de 螺子時計リビドゥー (Neji Dokei Libido) em que fez uma dança girando as mãos e abaixando-se para a direita e a esquerda. Mas ele havia subestimado a platéia, que obviamente não havia se esquecido dos movimentos e dançou com perfeição. O ambiente ficou novamente pesado com violentos headbangings. Com uma energia inacreditável, Ryosuke gritava ao microfone e yu≠ki ficou muito próximo do público, fazendo com que suas fãs suspirassem com sua beleza.
"A próxima música é a última! Carnival!!!" gritou o cantor. CARNIVAL OF JULIA foi recebida com entusiasmo e mais cabeças batendo ao ar. As luzes iluminavam o palco com tamanha intensidade que era possível enxergar os rostos dos integrantes com detalhes. Antes de sair do palco Ryosuke vociferou sem o microfone "Gritem muito pelo encore!" Dito e feito, logo os fãs se revezavam para pedir pelo bis com as vozes mais altas que podiam. Logo seus pedidos foram atendidos e a banda retornou ao palco vestindo as camisetas oficiais da turnê. Sou disse: "Nagoya! Foi muito longe para chegar aqui, levou bastante tempo. Mas o Ban dirigiu até aqui pois ele queria muito ver vocês. Palmas para o Ban!"  Ryosuke comentou que realmente se passaram muitos anos desde que vieram para Nagoya pela última vez e quando chegaram na casa de shows hoje havia uma placa dizendo "Sejam bem-vindos de volta a Nagoya" e isso o deixou extremamente contente. "Eu amo Nagoya!!" declarou o baixista. O vocalista voltou a falar e anunciou que da próxima vez em que eles voltarem para Nagoya eles estarão ainda melhores, e que eles definitivamente retornariam. Os fãs muito felizes com a promessa bateram palmas.
O show continuou com 宴-UTAGE-, a audiência se movimentava de um lado para o outro, Ryosuke os imitava no palco e Ban batia em sua bateria com fúria. "Venham com tudo!" provocou Sou no começo de 琥珀塔の少女 (Kohakuto no Shoujo), e usando toda energia que lhes restavam, a audiência lançava-se ao ar socando-o com seus punhos. A apresentação chegou ao seu fim com ジェノセンス (Genosense). Os fãs balançavam suas mãos, enquanto eram observados por Ban que tinha um grande sorriso no rosto. Ryosuke e yu≠ki faziam movimentos sincronizados com a cabeça e Sou contemplava o rosto de cada um na platéia com uma expressão de enorme satisfação. Afinal, há quantos anos ele não via aqueles rostos? Mesmo depois de tanto tempo, todas aquelas pessoas estavam esperando por ele, e toda a energia que os fãs trocaram com a banda naquela noite foi a maior prova disso.
Ao término da última música, todos os cinco integrantes se reuniram ao centro do palco e se curvaram para o público. Ryosuke e Sou trocaram um caloroso abraço antes de deixarem o palco. Mais uma vez Ban ficou sozinho, e andando de um canto para o outro do palco acenou para todo o público enquanto fazia caras e bocas. Nem mesmo a equipe do LIVE JAPAN MUSIC ficou de fora da despedida de Ban que nos cumprimentou fazendo "jóia" com os dedos. Com o baterista deixando o palco, as cortinas se fecharam dando fim ao espetáculo.
A turnê "JOKER GAME ~BET YOUR 11 CARDS~" chegará ao seu fim no dia 16 de Junho quando eles tocam ao céu aberto no Auditório do Hibiya em Tokyo.
Um show que será definitivamente incrível e adicionará mais uma página na história da legendária banda.
O Lolita 23q não cansa de surpreender os fãs de várias formas, fazendo com que nunca saibamos o que esperar de suas atividades. E é por essa razão que o LIVE JAPAN MUSIC não tirará os olhos deles nem por um segundo! Recomendamos fortemente que você faça o mesmo.
Para mais informações, acesse o site oficial da banda
lolita23q.com
Text: Guilherme Ritsu - English Translation: Caroline Damasio | Photos: Lolita 23q
Lolita 23q is definitely a band with lots of story to tell. Formed in 2004, the vocalist Sou left in 2009, making the remaining members continue with a new singer until the year 2012, when they ended the band's activities. However, in 2016 the band announced their return, to the fans' surprise, with Sou taking up the vocals again.
On April 7 the band visited Nagoya for the first time since their comeback. The concert that was part of the tour "JOKER GAME ~ BET YOUR 11 CARDS ~" brought together fans from all over the country to Nagoya ell for a nostalgic and unforgettable night.
To the sound of a song that resembled a casino's background music, one by one the members entered the stage. Ban with his exotic and entertaining look jumped towards his drum set, Ryosuke with dramatic movements was against his bass, while the guitarists yu≠ki and Ryuto with extreme elegance occupied their positions in the left and right corners of the stage. Finally, the vocalist Sou entered the stage, receiving excited shouts from the audience and starting the concert.
The introduction sounded perfectly with the first song of the night: ジョーカーゲーム (JOKER GAME), the band's first single after their return, a song that features strong jazz elements and refers to casinos and card games. Fans jumped with their hands up and sang in chorus with the vocalist. Then Supernova and Red Room shook the crazed crowd. The members were moving to the front of the stage to tease them up even more. Ryosuke who didn't stop moving for even a minute, showed all his ability singing, shouting and rapping by the microphone while playing his bass.
"Nagoya, I wanted to see you!" Sou shouted. The venue lights went out and the fans started yelling the names of their favorite members. The vocalist then spoke again: "We finally came to Nagoya again. It's been a long time, isn't? Were you anxious?" Happy with the crowd's reaction, he continued "We'll make remember of how Lolita 23q show is like! Let's have fun with our everything!" Taking Sou's words seriously, the fans made the environment turn wild in the first riffs of 睡蓮の部屋(Suiren no heya). To the screams they jumped and danced perfectly the choreography of the music, showing that even after so much time, they didn't forgotten it. At some point, fans began to make a kind of mosh up front, not letting it lie for any heavy metal gig.
Ryuto and yu≠ki traded their positions, and during the guitar solo all members pointed to yu≠ki who despite the pressure executed it with mastery. Sou asked "Do you remember this one?" shortly before the first chords of the introduction of セヰレンブルウ (Seilen Blue), music that was being played for the first time since the band's return.
In an atmosphere of excitement and nostalgia, fans watched the band's performance in silence, but they returned to show their full strength in 極彩色キャッスル (Gokusaishiki Castle) when, to the rhythm of the song, they jumped from side to side along with the band . Not even yu≠ki that was playing standing in his corner could be left out, since Ryosuke nudged him to join the party. Somewhat displeased, yu≠ki started to jump with the band and the fans.
After so much excitement, the audience had some time to rest while listening to the beautiful ballads カラフル夜空 (Colorful Yozora) and 流星とメトロポリス (Ryuusei to Metropolis) where Ban showed all his energy and rhythm, Ryuto charmed the fans while making his guitar sound with melodic rhythms. Near of that song's end, Sou let their fans sing the part of the lyrics that says, "God, can you hear my request? Does it reach you?", and indeed their request seemed to have come true. The band that had long since ceased its existence, was there playing right in front of their eyes.
After the end of the ballads, the members left the stage leaving Ban alone. This was the beginning of BANTIME in which he interacted with fans in a fun way. "People from Nagoya!! Good afternoon!! Claps! Claps! Yo!!! I'm Ban!!" he said, making the audience laugh. He then decided to gift Nagoya fans with a special performance, making beatbox while mentioning Nagoya typical foods. "Let's keep having fun! Get your towels! If you don't have towels take the tissues you've got in the street! If you don't have tissues, use your arms!" He ordered the fans to prepare their towels, part of the band's merchandise. "Shake it like it's a DVD recording, okay? Do you love Ban? Is my drum beautiful?" He asked as he amused himself with the reactions.
The members returned together to the stage as the venue was seized by an electronic beat, which again connected with the next songs, プラリウム (Plurium) e Pheromone Cherry that transformed Nagoya ell into a rave. Insane, Ryosuke was headbanging and spinning across the stage while he played. Sou announced the next song, 完未完成サファイア (Mikansei Saphire), one of the most beloved by the fans, that to express that, jumped as high as they could and sang with all their lungs, bringing bright smiles not only to the vocalist but to all the members faces. But Sou  wasn't completely satisfied. "Give it your all at the next song!" He shouted before 二次元ノ宙 (Nijigen no Chuu), and they promptly answered the request, raising their fists in the air. Ryuto and Ryosuke played back to back and gestured for the fans to scream more and more. Both the band and the audience seemed to become one.
"Imitate me!" Said Sou at the beginning of 螺子時計リビドゥー (Neji Dokei Libido) in which he danced by twisting his hands and lowering himself to the right and left. But he had underestimated the audience, who obviously had not forgotten the movements and danced like him to perfection. The environment was heavy again with violent headbangings. With unbelievable energy, Ryosuke screamed to the microphone and yu≠ki got very close to the audience, making his fans sigh at his beauty.
"The next song is the last! Carnival!!!" shouted the singer. CARNIVAL OF JULIA was received with enthusiasm and more heads banging in the air. The lights illuminated the stage with such intensity that it was possible to see the members' faces in detail. Before leaving the stage, Ryosuke shouted without the microphone. "Scream a lot for the encore!" and sure enough, soon the fans took turns asking for the encore with the loudest voices they could.
Soon their requests were met and the band returned to the stage wearing the official tour t-shirts. Sou said: "Nagoya! It was too far to get here, it took quite some time. But Ban drove here because he wanted to see you so hard. Claps to Ban!" Ryosuke commented that it really had been many years since they had come to Nagoya for the last time and when they arrived at the venue today there was a sign saying "Welcome back to Nagoya" and that made him extremely happy . "I love Nagoya!!" stated the bassist. The vocalist spoke again and announced that the next time they return to Nagoya they will be even better, and that they would definitely return. Fans, which were very happy with the promise, applauded them.
The show continued with 宴-UTAGE-, the audience were moving from one place to another and Ryosuke imitated them on the stage, while Ban was in his drums with fury. "Come on with everything!" Provoked Sou at the beginning of 琥珀塔の少女 (Kohakuto no Shoujo), and using all the energy they had left, the audience was jumping while beating their fists in the air. The concert came to an end with ジェノセンス (Genosense).
Fans waved their hands as they were watched by Ban who had a big smile on his face. Ryosuke and yu≠ki made synchronized movements with the head and Sou was contemplating the face of each one in the audience with an expression of great satisfaction. After all, how many years had he not seen those faces? Even after such a long time, all those people were waiting for him, and all the energy that the fans exchanged with the band that night was the biggest proof of that.
At the end of the last song, all five members gathered in the center of the stage and bowed to the audience. Ryosuke and Sou exchanged a warm hug before leaving the stage. Once again Ban was alone, and walking from one corner to another of the stage, he waved to the audience as he played with the fans. Not even the team of LIVE JAPAN MUSIC was left out of Ban's farewell who greeted us making "thumbs up" with the fingers. With the drummer leaving the stage, the curtains closed, ending the spectacle.
The tour "JOKER GAME ~ BET YOUR 11 CARDS ~" will end on June 16 when they'll at Hibiya Auditorium in Tokyo.
A show that will be definitely incredible and will add another page in the legendary band's history.
Lolita 23q is never tired of surprising fans in many ways, making us never know what to expect from their activities. And that's why we from LIVE JAPAN MUSIC will not take our eyes off them for a second! We strongly recommend that you do the same.
For more information, visit their official home page
lolita23q.com
SETLIST
01. ジョーカーゲーム (JOKER GAME)
02. スーパーノヴァ (Supernova)
03. Red Room
04. 睡蓮の部屋 (Suiren no Heya)
05. セヰレンブルウ (Seilen Blue)
06. 極彩色キャッスル (Gokusaishiki Castle)
07. カラフル夜空 (Colorful Yozora)
08. 流星とメトロポリス (Ryuusei to Metropolis)
BANTIME
09. プラリウム (Plurium)
10. Pheromone Cherry
11. 未完成サファイア (Mikansei Saphire)
12. 二次元ノ宙 (Nijigen no Uchu)
13. 螺子時計リビドゥー (Neji Dokei Libido)
14. Carnival of JULIA
ENCORE
en1.宴-UTAGE-
en2.琥珀塔の少女 (Kohakuto no Shoujo)
en3. ジェノセンス (Genosense)
Clique nas imagens para abrir (Click to open)
[LANÇAMENTOS - RELEASES]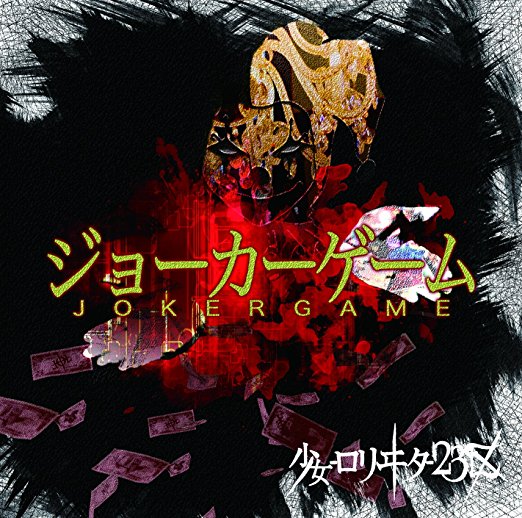 ▼ Lolita 23q 1st single 『ジョーカーゲーム』(Joker Game)
Data/Date: 22/03/2017
Preço/Price: 1,230 ien + tax

Tracklist:
ジョーカーゲーム (JOKER GAME)

プラリウム (Plurium)

二次元ノ宙 (Nijigen no Uchu)